Immersive 3D Ambiences & Effects
for podcasts, radio, web, games and TV in
Stereo (Binaural) and 3rd order Ambisonics
– or click the individual Features below to read about Munk Productions Ambisonic Ambiences
Sign up for Munk Productions Newsletter
What is 3D Audio?
3D Audio, Ambisonics, Immersive Audio… these terms all refer to audio which contains more spatial information than simple stereo. While stereo provides information to localise sound sources in the horisontal plane from left to right, 3D audio also includes horisontal front-to-back and/or vertical down-to-up information.
Using such audio files greatly increases the envelopment and realism of audio productions. And the higher the order (read more here), the more precisely sounds can be located when listening, and the greater is the sense af actually "being there".
This is a growing library of 3D audio ambiences for immediate download. The library is intended to cover the most often needed ambiences for a broad range of projects rather than covering every location on the Planet. The library is regularly updated with new packages.
All ambiences are recorded to 3rd order Ambisonics format (Higher Order Ambisonics, HOA) and made available as
16-channel 3rd order ambisonic files for ambisonic projects
binaural (stereo) immersive files ready to use in stereo projects
The two file types can be purchased together in the Ambisonic packages, or as binaural only in the binaural packages.
Read more about the library and Ambisonics here.
News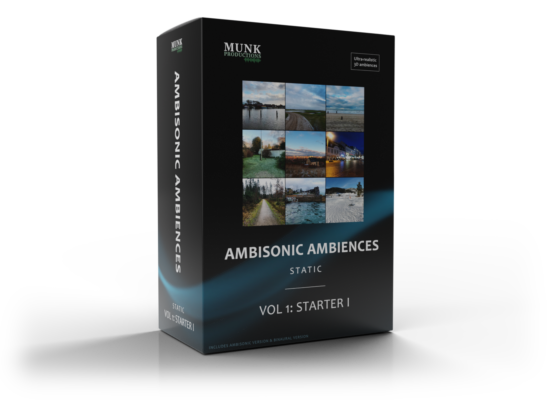 May 20, 2020 Today, Munk Productions released four packages in the new Ambisonic Ambiences library (MPAA). Three versions of the Static type package with 50/20/30 Static ambiences, mixed from all different categories, is named "Static Starter 1". This package is perfect for anyone wanting to start using immersive audio in his or her audio productions, […]
See all our news