Do you want to give the headphone or ear bud wearing listener
a completely enveloping experience?
Ambisonics is an old technique which has been revived. Upgrade
from stereo at Munk Productions.
Having a listening experience which envelops you makes the entire listening experience far more physical – it feels as if you are there. That you are actually together with the characters talking. And it provides ultra realistic ambiences.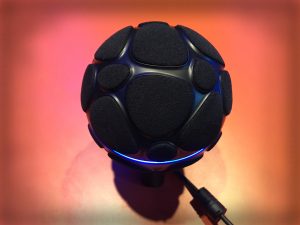 The listener needs no special equipment. All that is needed is a pair of headphones or ear buds – which incidentally is the preferred listening devices for the majority of e.g. podcast listeners today.
During production you'll need ambisonic microphones, software and experience – all of which is provided by Munk Productions.
Create you next podcast as a 3D audio experience. Just bring your idea, and you'll take the completed production with you as an ordinary stereo file. When heard through speakers it'll provide an ordinary stereo experience (albeit with ultra realistic ambiences). And when heard via headphones or ear buds it will give the listener the full 3D experience.